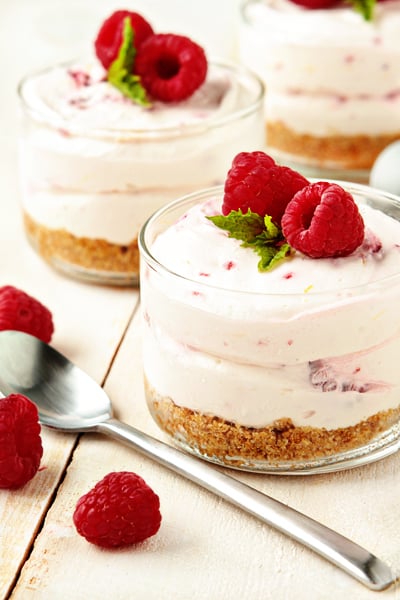 This recipe is from Jamie over at My Baking Addiction.
See their recipe or follow the recipe here
(with my additions and improvements in red)
:
Raspberry Lemon Cheesecake (No Bake) - Serves 6
Ingredients - Crust
3/4 cup graham cracker crumbs
1 tbsp sugar
3 tbsps unsalted butter, melted
Ingredients - Filling
2/3 cup sugar
Zest of 2 lemons
1 8oz pkg cream cheese, softened
2 tsps fresh lemon juice
1 tsp vanilla extract
1 8oz tub frozen whipped topping, thawed
1 cup fresh raspberries, slightly mashed with a fork

(I slightly mashed and actually should have been mashed a bit more. Raspberries that were not mashed enough sunk to the bottom of the dishes while chilling.)
1) In a medium bowl, stir together the graham cracker crumbs and 1 tbsp of sugar and melted butter. Evenly divide the crumbs between your individual serving dishes and press into the bottoms of the dishes to form a crust layer.
2) In a large bowl, mix together the sugar and lemon zest until the sugar becomes moist and fragrant.

(This was my favorite part. It smelled so good.)

Add cream cheese and beat with an electric mixer until smooth. Add lemon juice and vanilla mixing to combine. Using a rubber spatula, fold in the whipped topping until will blended, then folded in the raspberries.
3) Evenly pipe or spoon the filling into individual serving dishes. Cover with plastic wrap and refrigerate for at least 2 hours before serving. If desired, garnish with fresh raspberries and a sprig of fresh mint.
Nutritional Information:
6 servings
Amount per serving:
Calories: 351
Fat: 17.2g
Carbs: 44.6g
Fiber 1.7g
Protein: 6g
Weight Watchers Points Plus Values: 10
Thoughts: I made these little cheesecakes with thawed frozen raspberries because I was very ready for winter to end and spring to begin. That was a perfect idea. They came out very light and fluffy. Nice raspberry taste, followed by the fresh lemon was like heaven. I loved it. Proudly, I give this recipe a bold 5 pins. Enjoy!
If you just hopped over here from Pinterest, Welcome. Feel free to check out any of the other recipes I have reviewed. And come back to visit us again sometime soon. - Lynn