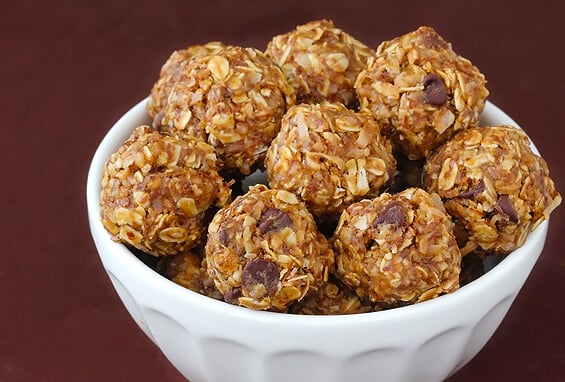 via
This recipe is from Ali over at Gimme Some Oven. F
ollow her recipe here
(with my additions and improvements in red)
:
No-Bake Energy Bites
- Makes 20 - 25

(My batch made 20)
Ingredients:
1 cup (dry) oatmeal (I used old-fashioned oats)
1 cup toasted coconut flakes
1/2 cup chocolate chips
1/2 cup peanut butter

(I tried almond butter)
1/2 cup ground flaxseed
1/3 cup honey
1 tsp vanilla
1) Stir all ingredients together in a medium bowl until thoroughly mixed. Let chill in the refrigerator for half an hour.
2) Once chilled, roll into balls of whatever size you would like. (Mine were about 1" in diameter.) Store in an airtight container

(They are slightly sticky, so I stored them individually-wrapped and then put in an airtight container)

and keep refrigerated for up to 1 week.
Ali's Tips: Substitution ideas can abound for just about any of these ingredients! Feel free to substitute in your favorite nut butter (almond

(This is what I originally made them with - yummy!)

, sunflower seed, etc) for the peanut butter. And you could also add in some wheat germ in place of some or all of the flaxseed. I would caution, though, against substituting agave nectar for the honey, as the honey's thickness helps hold things together.
Some other fun substitutions for the chocolate chips (or an addition to them) could include: chopped dried fruit, dried berries, chopped nuts, other chips.
Enjoy!

(I agree!)
Nutritional Information:
20 Servings
Amount per serving:
Calories 157
Fat 10.2g
Carbs 14.9g
Fiber 1.9g
Protein 3.5 g
Fiber 1.9g
Protein: 3.5g
Weight Watchers Points Plus Values: 4
Thoughts: These should really be called, "Crack No Bake Energy Bites," or "Don't Plan on Eating Just One, Even Though You Know How Many Calories They Are, Because You Know You Are Going to Eat Them All, So Do It and Just Get It Over With." Yeah, they are that good! I will definitely make these again. The next time, however, I will hide them in the refrigerator of a friends house, in the next state over. Therefore, these delightful little bites get 5 healthy pins!
If you just hopped over here from
Pinterest
, Welcome! Feel free to check out any of the other recipes I have reviewed. And come back for another visit sometime soon. - Lynn
Who knew you could buy a Health Nut Care Package? See the ad below!